Dear Dane, Lynn and the PFC Members
Greetings once again in the name of our Lord King Jesus Christ.
We failed to go to Ntambalare village as our last village to visit last year because of the financial problem.
We thank the Lord for giving remaining 19 mattresses at the Orphanage, now all the children are sleeping on the mattress.
I just want to share with you that all schools has been opened now and up to now we didn't pay the school fees of any child under Maoni Orphanage. We really need urgent support so that we can pay their school fees before they are chased from their classes.
As we shared with you about what happen at Maoni Orphanage last month due to thunderstorms, lightening and heavy wind that destroyed the boys' dormitory.
I have scanned some of the news cuttings to show also other people they have been affected by this.
We need the help also of rebuilding the boys dormitory so that the boys should be back soon.
Keep on praying for:-
1. Lord to provide with finances so that we can rebuild the dormitory soon and To complete the roof maintenances to some damaged buildings at the Orphanage
2. Good rains to continue so that Malawi and Mozambique can have enough food for this coming harvest season.
3. School fees and school materials which is MK1, 211, 000.00 for the second term to the children of Maoni as all school has been opened now.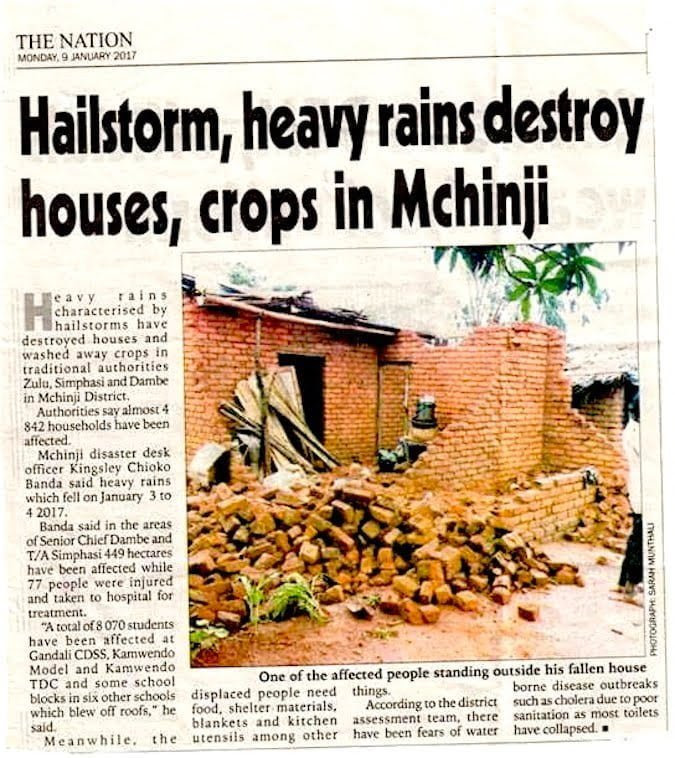 Once again thank you very much for all your prayers and support.
Enock.
Dane Arr
Inventor, Designer, Astrologer, Writer, Web Developer, Artist, Entrepreneur, Father, Husband, Grandpa and all around mad creative, born under Pieces at 5:55 degrees in California USA.