December 31, 2016
There's a good question for you.
It's being reported that just days before Thanksgiving in Stow Creek Township, New Jersey, 200 dead red-winged blackbirds began "raining" from the sky.
And it isn't the first time in recent weeks this has happened in that area, either.
Infectious disease has been ruled out, and despite testing nearby wheat fields for chemical compounds that may have contributed, pesticide poisoning has supposedly been ruled out as well.
Scientists are stumped (via
Philly.com)
:
"We did ascertain that the birds suffered trauma and internal bleeding from hitting the ground," [New Jersey Department of Environmental Protection spokesman Larry] Hajna said. "But what made them fall from the sky in the first place . . . we can't say for certain."
So…
What do you think is causing this?
Curious isn't it? How these "mysteries" are always reported on, but they hardly ever up finding the cause…
Related Reads
We encourage you to share and republish our reports, analyses, breaking news and videos (
Click for details
).
http://www.thedailysheeple.com/why-is-it-raining-dead-birds-in-new-jersey_122016
ALSO READ: https://www.rt.com/news/372359-canada-sea-creachures-die/
*********************************************************************************
22nd December 2016 - Massive die off of fish in a lake in Xiamen,
China
.
Link
20th December 2016 - Thousands of dead crayfish found floating down a river in Putaruru,
New Zealand
.
Link
20th December 2016 - Hundreds of dead fish wash up on a beach in Phuket,
Thailand
.
Link
19th December 2016 -
Tens of thousands
of dead fish wash up again in Cornwall,
England
.
Link
17th December 2016 - Schools of dead herring are still washing up on beaches in Nova Scotia,
Canada
.
Link
17th December 2016 -
200,000+
chickens to be killed due to avian flu in Hokkaido,
Japan
.
Link
16th December 2016 - Thousands of dead fish found in a river in Durango,
Mexico
.
Link
16th December 2016 - 5,000 turkeys to be killed due to avian flu in Lincolnshire,
England
.
Link
16th December 2016 -
16 MILLION
poultry killed due to avian flu in various areas of
South Korea
.
Link
16th December 2016 - Dozens of dead eels found washed ashore in a lake in Hawke's Bay,
New Zealand
.
Link
13th December 2016 - 10 TONS of fish have suddenly died in Lake Lake Kerinci, Jambi,
Indonesia
.
Link
12th December 2016 - Thousands of dead fish found in a river in Espirito Santo,
Brazil
.
Link
8th December 2016 -
100 TONS
of fish have died in Lake Maninjau,
Indonesia
.
Link
7th December 2016 -
Thousands
of snow geese die after 'landing on toxic waters' in Montana,
America
.
Link
5th December 2016 - 700 geese found dead, due to avian flu in Lubuskie Province,
Poland
.
Link
5th December 2016 - 5,000 ducks killed due to avian flu in the Tarn Department,
France
.
Link
4th December 2016 - Thousands of dead fish wash up, 'a mystery' on a beach in Cornwall,
England
.
Link
4th December 2016 -
540,000
chickens killed due to avian flu in Niigata,
Japan
.
Link
1st December 2016 - Thousands of dead fish continue to wash ashore, 'reason unknown' in Nova Scotia,
Canada
.
Link
1st December 2016 -
Massive
fish kill, 'state of calamity' declared on lake Buhi in Camarines Sur,
Philippines
.
Link
December 30, 2016
Den britiske sanger og sangskriver George Michael døde 25. december, og fans har siden sat blomster og lys uden for hans hjem i det sydlige England. (Foto: DANIEL LEAL-OLIVAS © Scanpix)
Læs videre:
http://www.dr.dk/nyheder/kultur/obduktion-uklart-hvad-george-michael-doede-af
Published on Dec 28, 2016
Reality Check: Proof That Those "Moderate Rebels" in Syria are Really Jihadists. "These are not "freedom fighters" they are not looking to make Syria free, they are looking to enslave it." Part 1
Turkish president Tayyip Erdogan claims to have concrete documentary proof that the West is backing ISIS
Erdogan claims to have photo and video evidence West supports terror groups
Comes as he called for the US to extradite his political nemesis Fethullah Gulen
Erdogan has blamed Gulen and his supporters for a failed military coup in July
Critics say he is using coup to eliminate opposition, with 41,000 under arrest
Published time: 30 Dec, 2016 19:56
Hackers have taken down the website of the Bilderberg Club, replacing the shadowy organization's page with a warning that the Atlanticist elites have a year to work for the benefit of humanity or their assets will be hacked next.
"Dear Bilderberg members, from now on, each one of you have 1 year (365 days) to truly work in favor of humans and not your private interests," the hackers, who identified themselves as the "HackBack movement and Anonymous," said in a message posted at
bilderbergmeetings.org
.
"Otherwise, we will find you and we will hack you," they threatened the "Wealthy Elitico-Political 1 percent."
"Mind the current situation: We control your expensive connected cars, we control your connected house security devices, we control your daughter's laptop, we control your wife's mobile. We tape your secret meetings, we read your emails, we control your favorite escort girl's smartwatch, we are inside your beloved banks and we are reading your assets. You won't be safe anywhere near electricity anymore," the hackers said.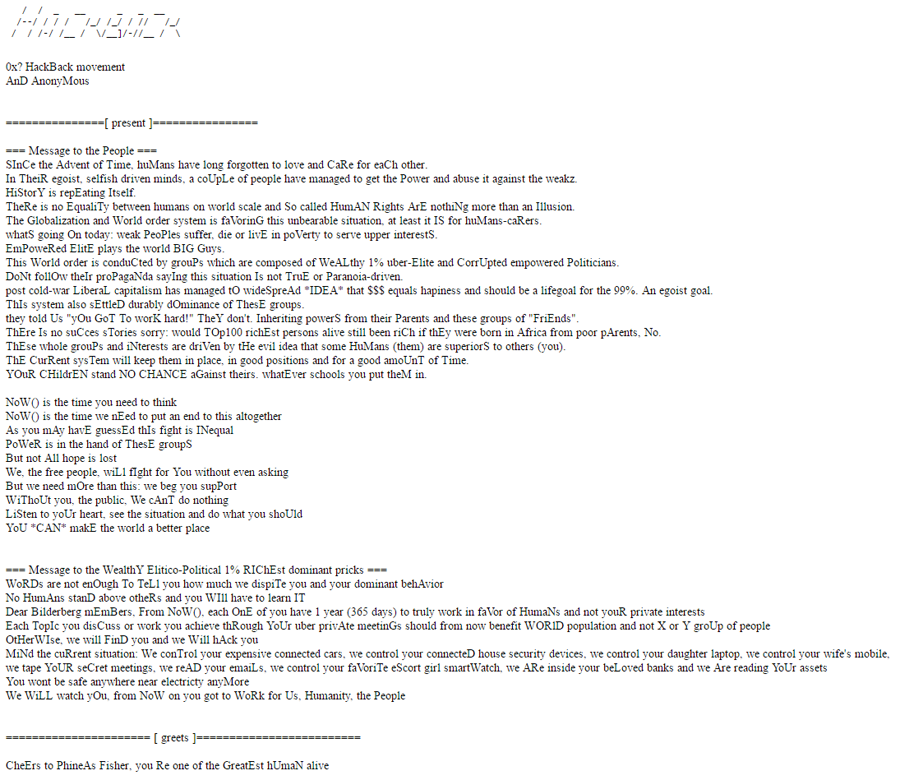 The Bilderberg Club is a group of European and American leaders from the fields of politics, industry, finance, media and academia who have met annually since 1954. Their meetings are notoriously closed to the public and blacked out to press coverage.
The most recent Bilderberg conference, the group's 64th, was held in Dresden, Germany in June 2016.
Posted: 29 Dec 2016 09:58 PM PST
by Justin Deschamps
Anti-aging technology or the fountain of youth has long been desired by human beings. Various explorers looked for how to make it a reality, such as the Spanish conquistador Ponce de León. Several Secret Space Program (SSP) insiders have said that this technology has been developed behind closed doors, capable of extending life and enhancing cognitive function (IQ). Recently, disclosures in the media have given credence to the claim that this technology has already been developed in secret.
Read more »
Danmarks egen senior-korrespondent Kirsten Birgit Schiøtz Kretz Hørsholm leverer igen i år sit bud på en tiltrængt opsang til nationen. Hun gør det på DR3 nytårsaften klokken 18.10, når Dronning Margrethe har holdt sine tale. Talen kan også ses nytårsdag klokken 11.10 og 22.55 på DR3 samt på dr.dk. (Foto: Pineapple Entertainment ApS © Type 2)
Her får du smagsprøver på programmer og arrangementer i nytårsugen fra den 29. december 2016 - 4. januar 2017
Læs videre:
http://www.dr.dk/om-dr/nyheder/nytaarets-dr-kirsten-birgit-sparker-nytaarsfesten-i-gang
http://journalisten.dk/dr-lukker-satireprogram-som-gjorde-grin-med-dr
http://soundvenue.com/film/2016/12/efter-ditte-louise-lukningen-dr-har-et-naermest-fetichistisk-forhold-til-seertal-235293
'Den rigeste ene procent ved godt, at folk kommer med høtyvene om lidt'
Danskerne er ikke gode til at forlade deres egen gruppe og bruge nysgerrigheden analytisk til at ruske op i klimakrise og øget ulighed. DF'erne er jo dem, der belaster klimaet mindst. Det burde den kreative klasse takke dem for, siger instruktør og grundlægger af Den Grønne Friskole, Phie Ambo
30. december 2016 - information
Tidligere kulturminister Bertel Haarder har givet os en kanon over de ti mest danske værdier. Men er den dækkende? Og giver det overhovedet mening at tale om danske værdier? Information har bedt en række danskere og herboende udlændinge om at komme med deres bud på en alternativ kanon over værdier, de finder særligt danske. I dag med Phie Ambo, grundlægger af Den Grønne Friskole:
Værdi: Nysgerrighed
»Du kan vinde et valg på et godt slogan, der appellerer til en bestemt opfattelse af tingene. Så går danskerne med på en bølge af, 'Sådan er jeg, og min gruppe gør sådan her'. I stedet for at træde uden for den politiske, spirituelle eller hvilken kategori, man nu tilhører. Hvis man tør stå uden for de grupperinger, vil man kunne træffe nogle beslutninger, som er bedre for alle, i stedet for bare ens egen gruppe. Men den manglende nysgerrighed blandt danskerne bremser for nye erkendelser. Og vi står altså på et tidspunkt i menneskets historie, som er superinteressant. Det kan gå ad helvede til, hvis vi ikke pudser brillerne. Eller også kan det gå rigtig, rigtig godt, fordi de ting, der sker i verden, virkelig er et wakeup call. Det vil kunne ruske op i den øgede ulighed, som ikke er god for nogen. Heller ikke for den rigeste ene procent. De ved godt, at folk kommer med de der høtyve om lidt. Men alligevel vil Anders Samuelsen (LA) give skattelettelser til de rige, som ikke engang vil have dem. Det er ikke analytisk. Hvad med lige at zoome ud og se på os som en hel menneskehed.«
»Ethvert menneske må gøre, hvad det vil, så længe det ikke skader andre. Det er liberalismens grundregel. Men du skader jo andre ved for eksempel at udvide Københavns Lufthavn og blive ved med at subsidiere fossile brændstoffer. Det er en ideologi, men det er ikke særlig analytisk. Derfor skal vi bruge nysgerrigheden til at træde uden for vores egne grupper.«
Værdi: Forbundethed
Udgivet første gang den 28. November 2016 af Verdensalt
Forord: Har sjældent tid eller energi til at udgive egne artikler, men dette emne er ekstremt vigtigt at sætte sig ind i. Lige nu ser jeg to fremtidige trends som bliver alt dominerende i Danmark. Digitaliseringen samt Robotisering af Danmark og især banksystemet. Noget som ikke alene påvirker bankerne men helt ud til Hr. og Fru Jensen privatsfære. Vi unge kan sagens klare os, men de ældre, handikappet, udlændinge og deslige får store udfordringer. Det kontantløse samfund er en virkelighed, kan vi se på kommunerne som næsten er 100 pct. total digitaliseret. At robotter kan erstatte fire ud af fem rutineopgaver i finanssektoren. Robotter kan automatisere op til 80 pct. af de manuelle opgaver i danske finanshuse. Disse to trends udvikler sig med eksplosivt fart.
Som altid smider jeg nogen bolde op i luften. Giver bud på min og andres alternative forestillinger hvordan verden ville fremstå i lyset af en tese, fortolkning og faktum, fremhæver egen opfattelse af det parallelle univers som vi lever i –eller rettere hvad jeg kalder vildledelse og manipulation. Tekst og sprog er i store træk mine egen, referencer til artikler afspejler ikke nødvendigvis min egen holdning, men er vinkler som kan nuancere emnet fra eksperter, andre links er fra oplyste individer eller organisationer fra nettets mangfoldige univers.
Økonomien er fanget i en gældsspiral
Banker og staten elsker at:
Danskere - det mest forgældede folk i verden. Det tog danskerne blot syv år at forgælde sig i det omfang af privat gæld, som tog amerikanerne halvtreds år at opbygge. Gælden vil tynge dansk økonomi i årevis.
Fra midten af halvfemserne og frem til 2009 sendte rekordlave renter og opfindsomme låneformer den vestlige verden ud i en forbrugsrus på kredit, og danskerne var blandt de mest flittige låntagere, der storshoppede på klods. De danske husholdningers gæld i forhold til den disponible indkomst er oppe på 267 procent, hvilket gør danskerne til det mest forgældede folk i verden. Fra 1995 til 2009 voksede danskernes gæld med 124,7 procentpoint – 1.614 mia. kr. – og en normal dansk husholdning skylder nu to-tre gange, hvad den tjener på et helt år efter skat. Det viser tal fra Eurostat og Nationalbanken.
Gælden hænger som en møllesten om halsen på dansk økonomi, hvor afbetalingen trænger sig på, og tvinger væksten i slæbegear i årevis. Det er vanskeligt at få privatforbruget i omdrejninger, når man skylder millioner til banken[
kilde
]
Chefen for den Europæiske Centralbank har sendt en formel advarsel til Danmark om risikoen for en boligboble i Danmarks største byer
.
Derfor er økonomerne trætte af Lars Rohde: Han skal slukke brande, ikke antænde dem
Banker og staten straffer os fordi vi har opsparing:
Danskere med opsparing mister 2,7 mio. kr. på grund af den lave rente
.
Danskernes milliardstore opsparing visner på bankkonti, der i bedste fald giver en rente på én procent. Størsteparten af opsparingen står på anfordringskonti uden rente.
Det paradoksale er, at danskernes opsparing på bankkonti er steget i takt med, at renten er faldet. Da finanskrisen satte ind i 2008 og udløste rentefald, var vores samlede indestående på bankkonti på kun 678 mia. kroner – 182 mia. kroner mindre end i dag.
»Centralbankerne har jo sat renterne ned for at få os til at lade være med at spare så meget op og bruge mere på forbrug,« siger privatøkonom i Danske Bank Las Olsen [
kilde
]
Det er ikke længere rentabel for bankerne at tjene på gebyr og renter hos kunderne grundet de negative renter og det nye trend for udbredelse af digitaliserings-bølgen. Vi må heller ikke have en opsparing. Efter mere end fire år med negative renter i Danmark begynder bankerne nu at sende regningen videre til kunderne. Foreløbig går privatkunderne fri, men det kan ændre sig. Derimod kan nye tiltag på den digitale front, kræve at alle kunder i Danmark overgår til statens og bankernes nye digital platform som kræver gebyr for overhoved at være lege, at vi har 'penge' vi kan bruge af...
Vi kommer også senere ind på pengeskabelsen og hvorfor Brøkreserve-bankvæsen er på retur og pengekontanter er bye-bye!.
Hvordan statsapparatet med bankerne i hånden, ønsker et pengeløst samfund
Inden vi starter Blockchain-revolutionen, skal vi lige først forstå hvorfor
Danmark kan blive det første land i verden til et total pengeløst samfund.
Jeg bruger ikke min insiderviden i bankverden, men kan mærke de trends som udvirker sig drastisk lige nu. Staten og bankerne lokker og truer hele tiden, vi skal investere vores penge i deres Brøkreserve-bankvæsen (
værdipapirer som
fx aktier, statsobligationer, langsigtede pensionsaktier
,
udlån), så kontrollen opretholdes og direktørstolene forbliver og aktionærerne tjener mere på os.
I tidligere artikel, konkludere jeg, at
bankerne er pengeløse
, ergo i den finansielle verden findes der ingen definition på penge. De udsteder papir og veksle dem frem og tilbage og så bogføre dem. eksempler:
Gældsbeviser
(promissory notes), Veksler (bills of xchange), Omsætningspapir (negotiable instruments).
En pengeløst samfund er "ikke længere en illusion, men en vision, der kan opfyldes inden for en rimelig tidshorisont," siger Michael Busk-Jepsen, administrerende direktør for Finansrådet. [Kilde]
Danmark er på vej mod det kontantløse samfund. Inden 2030 vil mønter og sedler til en værdi af omkring 30 milliarder danske kroner være fortid. Sådan lyder prognosen fra flere sider, og udviklingen mod det kontantløse samfund er allerede i fuld gang.
Ved slutningen af året skal der ikke længere trykkes sedler og præges mønter i Danmark. Det kan ikke længere betale sig at producere penge i Danmark. Sådan lyder meldingen fra Nationalbanken, der ved årsskiftet stopper trykkeriet af sedler og prægningen af mønter. Fremover vil produktionen af nye danske sedler og mønter foregå i Finland hos en ekstern leverandør.
De regionale banker og lokale pengeinstitutter melder sig klar til at byde Dankort på mobilen velkomment til efteråret. De er på vej med en digital tegnebog – en såkaldt wallet - der gør det nemt, hurtigt og sikkert at betale kontaktløst med elektroniske betalingskort via mobilen.
60 lokale pengeinstitutter samt Jyske Bank, Sydbank, SparNord Bank, Arbejdernes Landsbank og Nykredit Bank. Dvs. at med denne nye
wallet
overlever Nets Danmark A/S på fineste vis,
omsætningen i Nets voksede med 8,5 procent
i tredje kvartal af 2016. Det er også selvom Nets led et kæmpe nederlag med en børsintroduktion som fejlede og tabet af Swipp bankerne.
Ekspert: Børsnotering af Nets er præget af hysteri og pengejagt. Jeg har aldrig set noget lignende i Danmark, at man i den grad forgylder topcheferne. Det kan da godt være, at de har gjort det godt, men for mig at se er det helt ude i hampen, at man kan få lov at tjene så mange penge på så kort tid, fordi man har passet sit arbejde. John Stihøj, direktør og analytiker i Aktieinfo
Snart bliver det kriminelt at eje kontanter



You'll roll on the floor laughing today as you read my detailed tongue-in-cheek article entitled, "The top 10 science hoaxes of 2016."




The really funny thing is that they're all really hoaxes! But the lamestream media has pushed them all as true.







Blogger: Only partial of newsletter (no adverts)
As you know, the global war on cash is exploding worldwide. India's killed 2 denominations of bills...
Venezuela is burying the 100 bolivar bank note (worth only about $.02 US)...
Citibank in Australia is no longer accepting notes or coins...
Spain has announced "anticipated measures in order to 'reduce the use of cash.'...
... And anyone who's awake and watching is panicking about the impending collapse of the dollar.
So you have 3 options:
1. Stick your head in the sand and hope the problem goes away on its own. And ignore the risk your family faces next year.
2. Continue freaking out, wondering how best to protect your assets, wealth, and family.
3. Check out membership in the Dollar Vigilante, where we'll show you exactly how to thrive and prosper no matter what happens in the economy, at our lowest investment of the year.
https://dollarvigilante.com/year-end-2016?cfid=75

WARNING: DO NOT attempt to navigate these tumultuous waters on your own and without expert advice. The results to you and your lifestyle could be disastrous. And I've seen it too many times.

Look, the facts speak for themselves.

For example...
Increased social chaos across the world because globalism is not built by votes but by violence and widespread disaffection allowing globalist "solutions" to be rammed home.
Over 200% increase in the value of Bitcoin, up many times since we first recommended it at $3.00.
Spain is splitting into pieces.
2000% inflation (according to IMF) in Venezuela
And much more
Our team of experts has proven themselves reliable in recognizing and then finding solutions to these and many more economic issues, over and over.

So, you can try and figure this out on your own...
https://www.rt.com/op-edge/198060-denmark-electronic-money-cash-banks/
https://fee.org/articles/why-theres-a-war-on-cash-in-europe/
http://www.marketoracle.co.uk/Article57324.html
https://www.ft.com/content/b6e4e7a6-a804-11e6-8b69-02899e8bd9d1
http://www.bbc.com/news/world-latin-america-38355349
http://www.zerohedge.com/news/2016-11-16/war-cash-intensifies-citibank-stop-accepting-cash-some-branches
https://www.armstrongeconomics.com/world-news/taxes/scandinavia-leader-in-the-war-on-cash/
http://finans.dk/live/privatokonomi/ECE7512660/Nordea-kunder-skal-betale-for-at-have-penge-i-banken/?ctxref=ext