"¿FRUSTRATED? Yes, we all are, though we have to remember that we're in a high stakes Chess Game where both sides are seasoned players and the entire Family Farm is on the table. It's a Winner Take All – a Casino Royale for the whole planet.
(Judy Byington, MSW, LCSW, Therapist ret, Journalist, Author)
"There are no LIVE culture of CV-19 virus (
SARS-CoV-2
) -
it doesn't exist! They are targeting our children because they are innocent!" ~ Alex C.
*************************************************
My thanks to Len, D, and Brian for their research, the fruits of which appear here.
Blossom Goodchild's husband, Goody, has transitioned.
Remember: "War" is for the purpose of declaring martial law. Declaring martial law is for the purpose of announcing the fall of the cabal and the return of the Republic.
No need to worry. This is what we've been waiting for.
---
Revision
False Flag Event of Wed. 3 Nov.

(Judy Byington at https://operationdisclosureofficial.com/2021/11/05/restored-republic-via-a-gcr-as-of-november-5-2021/.)

… Charlie Ward: … "I understand the announcement was pulled yesterday – A Chess move."
---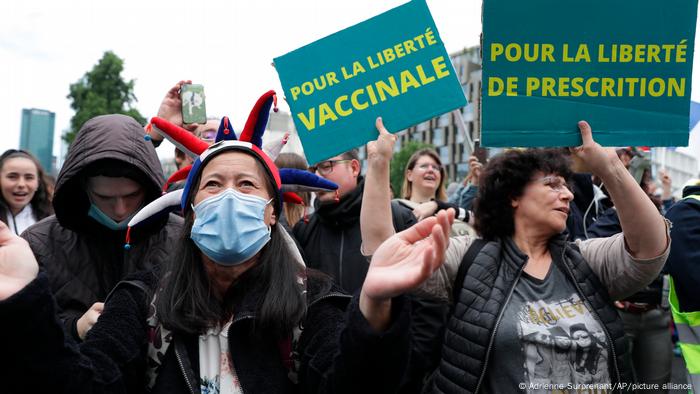 France, Italy see mass protests against COVID health pass
Dw.com, n.d.
(https://www.dw.com/en/france-italy-see-mass-protests-against-covid-health-pass/a-58794976)
France saw its largest protests yet against the country's health pass. In Italy, some anti-vax demonstrators wore the widely condemned gold stars, echoing the badges Nazi Germany forced Jewish people to wear.
Nearly a quarter of a million people protested in France against coronavirus rules on Saturday
Protesters took to the streets
in France
and Italy on Saturday in opposition to COVID rules that they say infringe on their civil liberties but which officials argue are needed to curb the coronavirus pandemic.
The protests come as European countries double down on efforts to get wide portions of their populations vaccinated in the face of the spreading delta variant — and in a bid to avoid further lockdowns.
What happened in France?
Demonstrations against France's health pass and mandatory vaccines for health care workers
entered their fourth weekend,
with Saturday seeing the largest rally yet.
An estimated 237,000 people turned out nationwide, according to the Interior Ministry. The figure exceeds the attendance a week ago, which saw 204,000 protesters.
While 17,000 people turned out in Paris, much of the focus was in southern France — where between 10,000 and 20,000 people marched in Nice alone.
In contrast to prior weekends, the demonstrations were largely peaceful. The more major scuffles broke out between protesters and police in Lyon, France's third-largest city.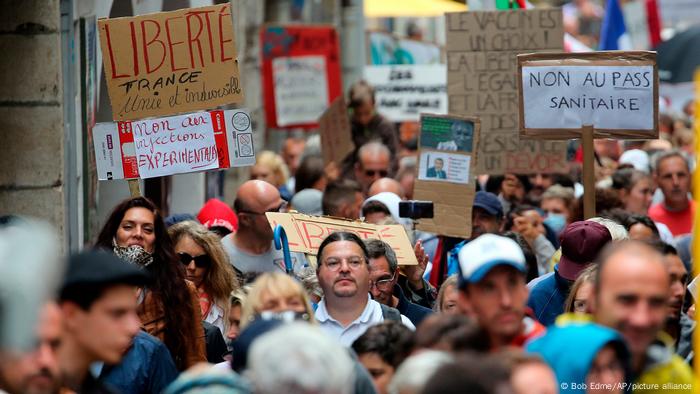 The city of Bayonne and other areas of southern France saw larger numbers of protesters, despite a surge in cases in the region
The protests come on the heels of a Constructional Council ruling on Thursday. The court approved the government's plan for the health pass and vaccine requirements for workers in hospitals in nursing homes.
France is currently in the grips of a fourth wave of coronavirus infections. The county has seen a boost in vaccinations since French President Emmanuel Macron announced the health pass in July.
Some two-thirds of the French population eligible for the jab have received one dose, while 55% are fully vaccinated.